This was my first year I had a reason to create an ugly sweater since we were having ugly sweater day at work. Sure I could go buy one of those holiday sweaters, but I thought it would be more fun to create my own. I went to the secondhand store to find a sweater. I couldn't find a red or green one, but the grey one I found worked nicely and it was under $5 with an extra discount on Black Friday.
Next I headed to the craft store. I had watched some Youtube videos for ideas and decided a Christmas tree seemed pretty simple to make. Of course watching someone else make something and then you go to create this vision in your head, it doesn't always go as planned. For one, I should have found some mini garland or something, because for the size of the Christmas tree, I had way too much garland. I guess I'll save the extra garland for my actual tree in my future house.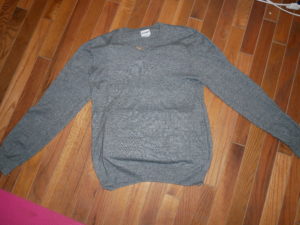 At the craft store, I picked up glue sticks (I had a glue gun at home), tiny bows, tiny ornaments, felt, snowflakes for a tree topper, white pom pom balls for snow and some bows that I didn't actually end up using in the end. Thanks to Black Friday sales, most of the supplies I picked up was 50% off. I picked up the garland from Target because it was a bit cheaper there and I really only used a small fraction of it, so I have lots left over. I also ordered tiny battery powered light strings from Amazon for $10. I only used one string of lights so I now have extra for future crafting or more sweaters.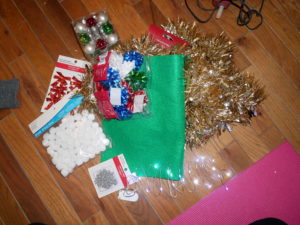 I documented my process. I put a brown paper bag in the sweater so that in case the hot glue went through, the sides of my sweater wouldn't stick. It also helped the sweater lay more flat. First I used a marker to draw out a tree. My symmetrical drawing skills are not great so I drew a couple times. I flipped the tree over so the marker side didn't show anyway.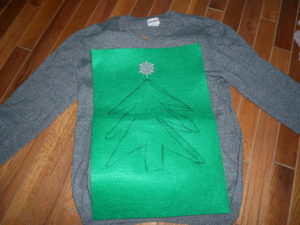 I then began laying out my design BEFORE gluing anything down.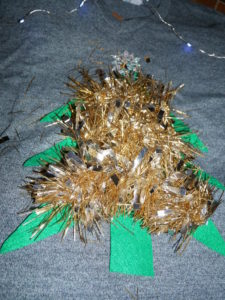 Once my tree and garland were set, I added the ornaments and figured out how I wanted the "snow" to look. Then I glued down the lights. The gluing of the lights took time as I had to hold the strings down in the glue until it set a bit. This is why hot glue is best because it dries quickly.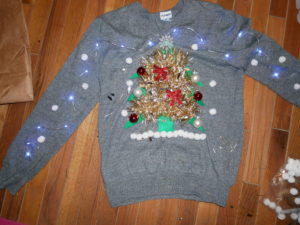 And there you have my completed design!!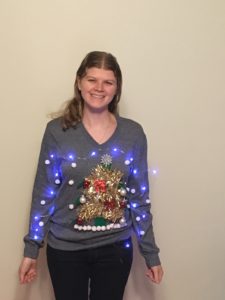 I realized after making my sweater, the tree is off center…but that's ok because it's supposed to be an ugly sweater anyway right?! Also I set the lights so that the battery pack perfectly lines up to be in my pocket.
Like I said, this was my first homemade ugly holiday sweater. I learned I should probably mark where the center is on the sweater, which is easiest to do if you put it on first. Maybe next time I will do a gingerbread man or snowman sweater. I definitely had a lot of fun putting it together. I don't do many craft projects these days, so I was really excited to have something to work on and design.
Do you have an ugly sweater party?