Hey there. How was your first December weekend? Mine was pretty good and busy.
Friday morning I was really in a good mood. Brian told me I had a case of the Fridays lol. After Thursday was done and month close was done, I went to yoga that night and it really did make me feel better. I have been missing attending classes since I don't live near any yoga studios, but I found a nice one around the corner from my office. I like it but it means that I get home around 9pm and then don't have much time to wind down.
Anyway I only have one more week of work and then work on moving, so this weekend I did a lot of cooking, baking and crafts.
Linking up with Katie for MIMM.
Saturday morning I headed to the pool after breakfast.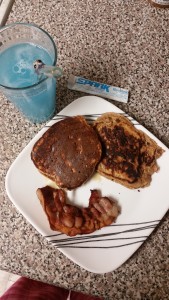 I didn't feel as great as Sunday when swimming. My shoulders started to ache and then once they finally warmed up, my left foot started to feel like it was going to cramp. I took it slow. Slow and steady wins the race. I made it to 1.5 miles and then decided to stop. I just couldn't push farther and I needed energy for the evening.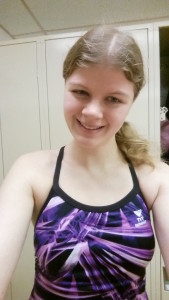 After my swim, my plans changed as originally I was going to meet up with someone for dinner Sunday, but since she cancelled, I decided to go to Wegmans after my swim and get my few grocery items. Somehow I still managed to spend $50 but oh well. I think I am in pretty good shape for using up most of my items.
The afternoon consisted of making gifts for my co workers (which will be in a separate post this week) while cooking. I also made vegan mac and cheese for the first time. I made this recipe with the cashew base. I also loved how you didn't have to soak the cashews, but I was not waiting around and already eating a late lunch. I mixed it with some roasted brussels. I always see people mixing mac and cheese and broccoli which honestly doesn't appeal to me, but I needed to finish my brussels and that mixture was pretty good (even if the picture doesn't look that appealing).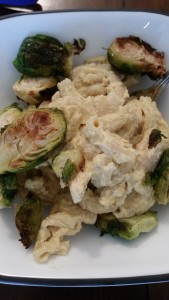 I also made some gluten free snickerdoodles. A few of my friends are gluten free so I wanted to bring some cookies to the potluck. Also these are egg free, so I enjoyed eating the dough a bit too.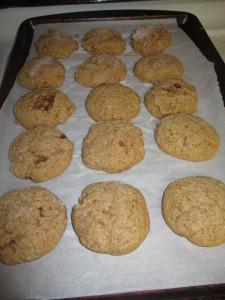 The afternoon flew by and then I changed and headed over to my friend's apartment for a potluck. I made WAY too much food, but there were 8 adults and 1 kid and we split it, so I came home with just a serving size of each of my dishes left. I made my quinoa salad and brought the mac and cheese and cookies. We had quite the spread of food. From chips, guac and salsa appetizers to bean chili, pizza, quinoa and regular salads and my mac and cheese. Then dessert was cookies, apple crumble, brownies and ice cream (which I can't have).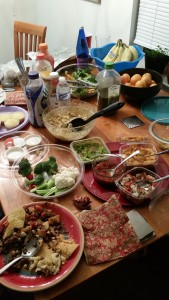 We got a lovely group photo and somehow I put on my coat at 10pm and stayed talking until midnight…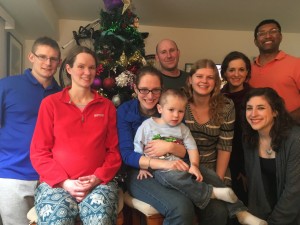 On Sunday I slept until about 8 and then got right to laundry, roasting veggies and making gingerbread cookie dough. I then taught my last yoga class before I move. My Tuesday class was suddenly cancelled as I learned last week, so was annoyed by that, but oh well. It was nice to say goodbye to one class.
I came home and made gingerbread cookies. I think I have been making gingerbread cookies for the holidays for at least 4 years and I love the tradition.
I always forget how much they spread and so Brian suggested turning those ones into minions.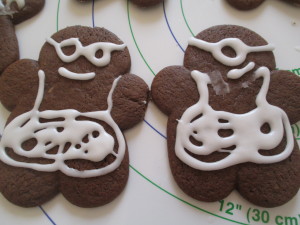 That took a couple hours, only fitting 6 cookies on a cookie sheet and then having fun frosting them. After snacking on gingerbread cookies, I decided to eat something healthier, a bowl of broccoli and then cooked up some pork chops for dinner.
As I ate, I watched Holiday in Handcuffs. December is my crazy tv time where I want and do watch sooo many Christmas movies. I have a lot that I recorded on DVDs years ago and love watching them over and over.
At the same time I am counting down to Fuller House Season 2 on Friday. I may or may not be preoccupied by that instead of packing next weekend…
I'll also be finishing this book this week. I love the book cover!!