Happy Tuesday!! Slowly moving through the week…but I have some treats from the weekend I have to share with you. These helped to cheer me up at least while we had rain and wind from the hurricane coming up the East coast.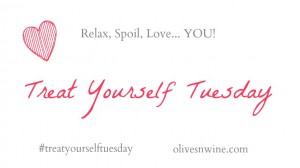 With the weather, Saturday was a good time to hit up the mall. But first, Saturday morning I headed to a yoga class at Bloomingdale's to benefit cancer. Since October is breast cancer awareness month I always try to participate or donate in some way this month each year. Usually I get a pink hair extension but haven't found a hair salon around Philadelphia that does it.
I always think it is so cool to be in a store before it opens. Great yoga class, though I was glad I brought my own mat, because these ones were thin and slippery, but a good light mat to carry or for travel.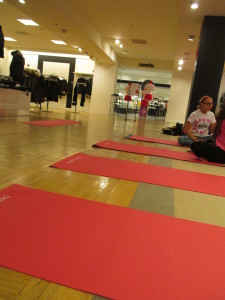 After yoga, I drove back home. I actually was such in a hurry I forgot my phone and all my tires needed to be filled that morning so I was a little worried to be without my phone. At least I had my ipad, but made it home safe. I think due to the temperatures dropping from 70 to 50 overnight, my tires needed air. I am counting down until I can change to my winter tires because those seem to do better with holding air in them…
After I made it home safely, I dropped off my things and headed to the Cherry Hill mall since it is basically across the street from Wegmans and I just felt like shopping (which is rare for me). I walked into the mall and saw the GNC store and I was so excited because I wanted to try the new Quest bars. I also picked up a couple Combat Crunch bars (notice the bottom one is just an empty wrapper…that was my lunch). The bars were buy 3 get 1 free by the way until Nov 2 I think. I heard about the Combat Crunch bars from Ali, Fit Girl Moves in one of her youtube videos. They were good by the way and so are the Quest Pumpkin pie.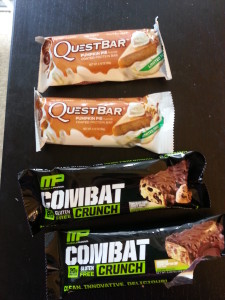 I then was just walking around the mall, not really looking for anything specific. I stopped in Gap Body and found a good workout shirt on sale, so I bought that.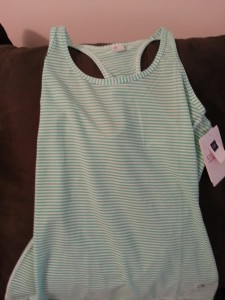 Then I found the Lululemon store. I walked in and thought, you know, why not try on some wunder unders? I actually don't own any clothes from Lululemon even though I have walked into the store admiring the clothes so many times. My main pair of leggings are wearing out though after 5 years and so it was time for some new ones, so I treated myself to a pair of black polka dot ones. With winter around the corner, I need to keep warm to continue my 5am workouts. I know that these will get some good use!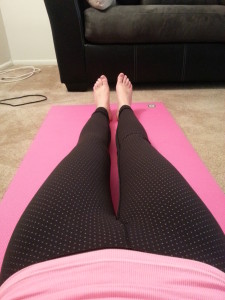 Of course I had already spent so much money thanks to my Lululemon purchase, but why not walk into Macys?! I really needed some PJ pants and a few years ago I got a pair at Macys that I loved, however I have been unable to find them again. Well I found a pair that came pretty close and they were actually 40% off, because when does Macys NOT have a sale? The woman at the register also tried to give me more discounts but they didn't have any coupons at the register for that day, but that was ok as they were reasonably priced after the 40% off.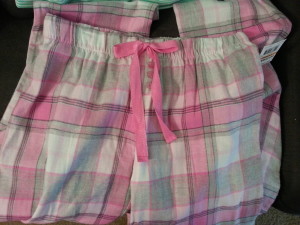 So I think I'm set on clothes until next year… HAHA. But really, I rarely buy clothes and when I do, I never really plan on what I'm getting. These were all items I needed and know I will get good use from since they are actually replacing my clothes that are wearing out.
Over the weekend I turned on my heat for the first time…getting so cold and it's only 55 degrees outside…
With the temperatures dropping, I don't have to worry as much about using the oven because it helps to heat up the apartment and that's what I want right now. I had to try Julie's cupcake recipe! Luckily I found Spice Cake Mix at Target. I couldn't find it at the grocery store. Oh man these were sooo delicious! With or without frosting, really good. I may have eaten 3 on Sunday…good thing I brought 6 to work so I wouldn't eat the whole dozen.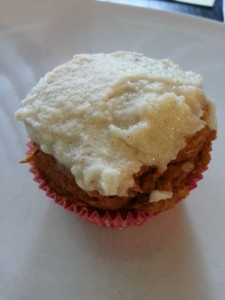 I had so much downtime with being stuck inside over the weekend, though the sun did finally come out on Sunday for a bit, which I was happy about. I was able to spend some time reading, watching Netflix and cooking. I was also practicing my headstand. Yay for middle of the room practice, just need to get my legs a bit straighter over my head.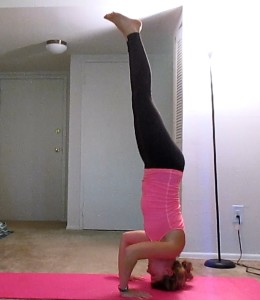 That's all for the treats today. Hope you guys are having a good week so far.