Here we are wrapping up the last week of 2015. I flew back to Philadelphia yesterday. The surprise (as I mentioned here) was a success. It was very nice to have 5 days off from work and get to see a couple friends in Chicago and enjoy a bit of time with my family and kitties.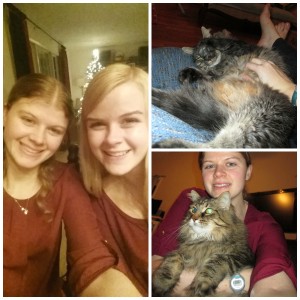 Wednesday was a rough flight and by the time my friend and I got to Evanston to eat, it was nearly 3pm, a very late lunch but very delicious at Flat Top.
My friend and I then walked around for a bit and drove around until 5:30 when both of my parents were home and I walked in to surprise them. I had my friend take a video too.
I then enjoyed dinner with my family and my sister's boyfriend came over as well. The family acted pretty normal and I think dinner was a success. My sister did well with making lasagna and a salad. Then they decorated the tree. I was back and forth mostly watching.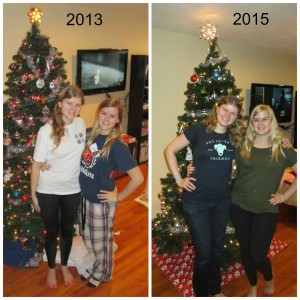 Christmas Eve
I headed to a 9:30 barre class. I didn't sign up in advance though and almost didn't get in the class. Luckily someone didn't show up and I got in a kick butt workout. My challenge with barre is sometimes I have no idea if I am doing the tuck right to really feel the workout, but I do always end up just a bit sore. My shoulder was not having the weight part, so sometimes I just have to modify and do the best I can. I had to drop the light weights towards the end of the shoulder burn part and just move my arms.
I did some shopping at Whole Foods to get a couple ingredients to make a quinoa salad for Christmas dinner and then I took the bus home.
I was starving by the time I got home and luckily I got some Noodles and Company to go on Wednesday for my lunch and enjoyed a movie.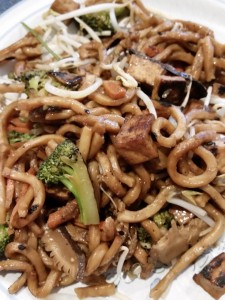 Once my sister returned from work, we headed out to do some shopping and then went to go see the movie Sisters. OMG that movie was so good. I might go see it again it was that good! Laughing so hard!!
We came home and scavenged the fridge and I made a burrito bowl for dinner while we watched Elf.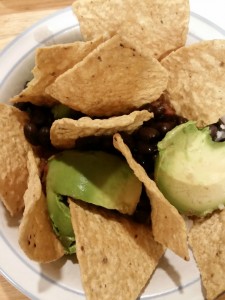 Christmas Day
I was up around 8am. I started to make some pancakes and put the cinnamon rolls in the oven while waiting for my sister to get up. Once she was awake, she was ready to open her presents as my dad and I were still cooking.
Breakfast was served and we put on Let it Snow movie from Hallmark Channel. My dad printed a picture of my gift so that I would have something to open and know what was sitting at my door when I arrived home.
It was a pretty chill morning. I whipped up my quinoa salad quickly and put that in the fridge until it was time to go to our cousin's in Wisconsin.
We left around 3pm and drove to Wisconsin. It is only an hour and 15 minute trip. We were only a few minutes late, but when are we ever on time as a family?! We joined them in watching Mythbusters and then ate shortly after 5. We generally have everything that we have for Thanksgiving. We have added Brussel sprouts to the mix as my cousin loves them and I love them now too. They also enjoyed my quinoa salad. I used red quinoa and some green onions and peppers so it seemed to be nice and festive too. We decided not to do gifts this year as we basically would just be exchanging gift cards and it's just like exchanging money so took away that stress.
My cousins were crazy and heading on the road at 3am to drive to Park City, Utah, so they were ready to go around 7pm and we left around 7:30, getting home at 9pm. A nice short visit.
The Day after Christmas
Saturday morning I took the train to downtown Chicago and met up with Susie for some brunch. We enjoyed catching up and eating at Yolk, which I had never been to.
I was planning to have my friend meet me in Chicago in the afternoon, but with the rain, it wasn't the nicest day and I was limited on time because my family planned a last minute photo shoot. The rain lightened up enough that I walked around enjoying Chicago for a bit. I walked down to Water Tower and then back over to the Macy's at State Street to see the windows which were just OK. I enjoyed some hot tea to keep my hands warm, but overall the weather wasn't that cold, it was just gloomy and wet. It was nice to get some walking in and then take the train back.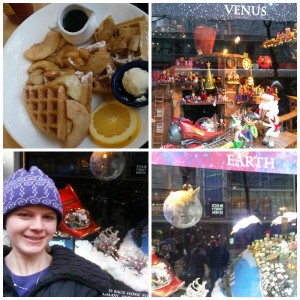 I had an hour with my friend and then got dressed for the family photo shoot. My sister requested some family photos since we aren't together much and honestly other than a few Target photo sessions in the past, we have never hired a professional photographer and done family photos. Though it can be pricey, I think once in 25 years is not bad. Our 30 minute session turned into almost 90 to get all the different shots, but I think it was well worth it and the photos just from the glimpse on the camera look like they will turn out nice.
After the photoshoot, it was time for some dinner, throwing together things in the fridge and we watched Harry Potter and the Goblet of Fire on ABC Family for Harry Potter weekend.
Sunday
My dad drove me to the airport around 7am. Luckily the flight was much smoother coming home and the landing was quick. Waiting a while for the train was annoying, but was better to save the money from parking. I immediately dropped off my bags and then headed to Wegmans for groceries. I picked up some avocado sushi for dinner from Wegmans and made Lee's chicken Parmesan recipe she posted yesterday for my dinners until Wednesday this week.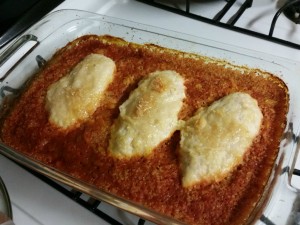 That brings us to today. Back to the office. Counting down to my 3 day New Years weekend already.
Hope everyone had a wonderful holiday and has a great Monday!!