This is the guide you have been waiting for right?! As we just wrapped up our last day in Sydney, I wanted to take time to reflect on some of my favorite places and recommend them to all of you if you ever find yourself planning a trip to Australia.
First let me say these are in no particular order. While I loved everything we got to see in Sydney, these were definitely the highlights, with a few bonus towards the end of the post.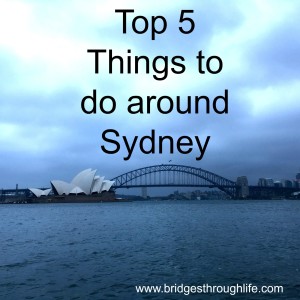 Taronga Zoo
Yes this zoo is $45 a ticket and full disclosure I did get passes from a friend, but I do feel like this $45 would be well spent as it is a nice size zoo that is good for a full day of activity. There are plenty of talks and shows throughout the day that you can plan your walks around and many animals to see. It also looks like they are constantly improving the zoo and adding new exhibits. They have a couple walk through exhibits, like with the lemurs and they are adding a tiger exhibit soon. I recommend taking the ferry over to the zoo (a quick 12 minute ride) and then taking the sky walk up to the entrance (which you will need to already have your tickets to do).
P.S. The Giraffes have the best view of the harbour. Lucky animals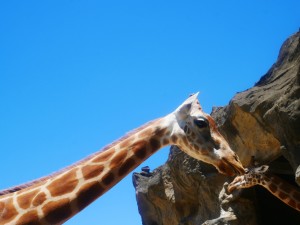 If you are up for a beautiful walk, take the Bondi to Coogee Beach walk. It is a 6km walk and you should wear sneakers (bring flip flops for the beach later if you want). With beautiful views from the tops of cliffs and walking past a few beaches, this walk is one you won't want to miss. We did this walk on our last day in Sydney and I was glad we were able to. It took us about 2 hours with stops at points but was well worth it once we got some food at Coogee and got to jump in the water.
Bonus: Once you get to Coogee Beach, you can lie on the beach or take a short walk to Wylie's Baths for $5 a person, you get to swim in a pool along the ocean and you don't have to worry about getting sandy. It is also a pool commonly used for lap swimming.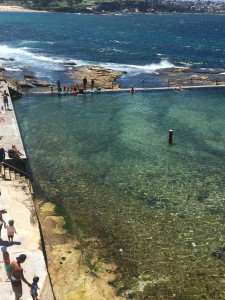 Blue Mountains
One of the first suggestions from Australians I find is to go to the Blue Mountains. It is about a 2 hour train ride out of the city, but very easy to get to. There are many trails you can choose from based on your fitness level, some shorter and some longer. I suggest getting the scenic world pass so you can take the steepest rain and get some great views while crossing in skyway and cable way. The trail we ended up spending the most time on was from the top of the Katoomba Falls and hiking down. I highly suggest hiking down (there are a lot of steps, but going down is easier than going up). Once you hike down and if you have the scenic world pass, you can take the train up, otherwise your only option is to walk back up some 900 steps.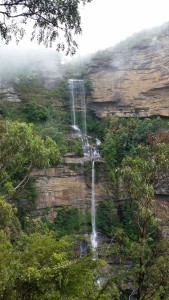 If you are a backpacker, you can stay in the Katoomba area and spend a few days in the Blue Mountains area. There is plenty to do for more than one day, but you can cover quite a bit of area in one day. I would suggest to get there at about 9am though to make the most of it.
I didn't know this was a popular trail until Brian was looking up things to do around Sydney. I do suggest if you are doing this trail walk in the summer, bring your swim suit because you will want to jump in the water. I somewhat regretted not having mine.
Offering beautiful views of Sydney Harbour and the Opera House along the way and passing about a dozen beaches, this is a great walk to do.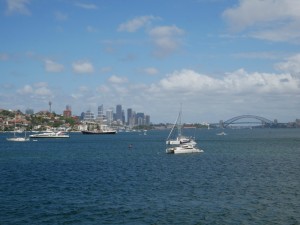 This trail continues until Nielson Park and then there is another trail to follow. We actually followed it all the way to the Gap Bluff point on Watson's Bay. There is a bus that follows along the road for the trail so you can start and end where you choose if you get tired.
Manly Beach
Manly Beach is one of my favorites. There are tons of shops, places to eat and also the Manly Aquarium which is included in the 5 attraction pass if you get that. Manly beach is a large beach offering areas to swim, surf and more. Easy to take the ferry over to the beach from Circular Quay. Each the ferry ride and then find a spot in the sand at the beach for the day and jump the waves.
If you have more time, here are a few bonus things to do around Sydney…
Take a tour of the Sydney Opera House
Learn about the choice of design and about the architect of the Opera House. You will also get a peak into the theater spaces. This is just a one hour tour and a great way to start your day at the harbour.
Darling Harbour Wild Life Zoo and Aquarium
These two attractions are part of the 5 attraction pass, also offered as a 2 or 3 attraction pass if you don't want to do all 5. Both attractions can be done in the same day. I would allow about 3 hours for each (only 2 if you don't have kids). At the Wild Life Zoo, you can also take your picture and get up close to a koala. You are not allowed to hold a koala though in New South Wales, just pet them and get a picture.
The aquarium features a new ride through penguin exhibit that brings you up close to the penguins. It also features a walk through tunnel where sharks, stingrays and fish come swimming above you. Definitely great for children and also great to visit to learn about some Aussie animals.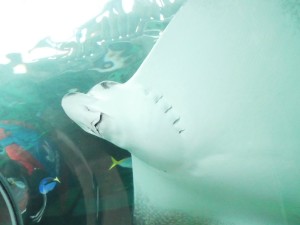 I hope you find this little guide helpful if you are visiting Sydney Australia one day. I absolutely love Sydney and am grateful that I have made it here twice in my life already.
Have you ever been to Australia?