Happy Tuesday!! As the title of my post says, I have treated myself with relaxation, sweets and more in the past week. Happy to be linking up with Becky today and share with you how I am treating myself.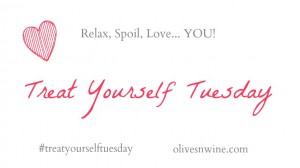 Last week, my biggest treat in a while, besides those Lululemon pants last month (which I was living in over the weekend), was getting a massage. I actually bought a package of 3 massages, because the deal was really awesome! I plan to write a separate post on my massage experience, but I will say I am TIGHT! Like everywhere!! Oh and it may not have helped that I did a leg workout including some lunges and squats and upping my weights just 36 hours before my massage, because I was still sore when walking. Though she worked on a lot of the tightness, but suggested since I had the package to come back in 2 weeks so I can get even further relaxed. Yes that's how tight I am, everywhere! I aim for a massage once a year so it had been 11 months and maybe that was a bit too long… I can say that I did feel better the next day. Usually I am always rubbing my neck and shoulders at my desk at work and I honestly haven't felt much of a need to do that since Thursday so that must be a good sign.
In addition to the massage, I treated myself with some sweets…of the ginger and peppermint variety. Sorry, but I'm kind of over pumpkin except for the piece of pumpkin pie I plan to eat at Thanksgiving, but I'm moving onto peppermint and all the gingerbread treats now.
I was sooo excited when I found this peanut butter at Wegmans!! It's gingery but tasty and good on apples. I thought the combo might be weird with the flavor, but it's pretty good. And I love peppermint bark which is what this Theo chocolate peppermint stick reminds me of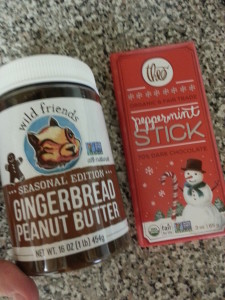 and a ginger cookie from Whole Foods when I went there on Friday.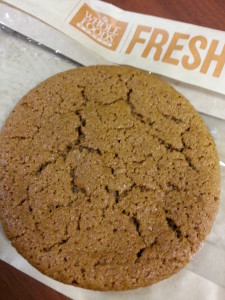 Now onto the books…
I finished this in 3 days and loved it! Plus there are some delicious recipes at the end, for breakfast, lunch or dinner and some chocolate treats.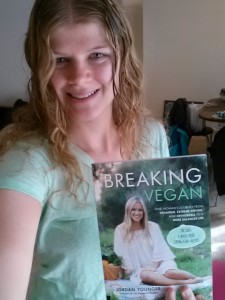 I just received my Yoga Anatomy book in the mail as I want to learn more about the anatomy of poses. Studying yoga anatomy may not seem like a treat, but it is for me as it is something I really want to work on and learn about. Plus after being out of school for 3 years, sometimes I miss the learning and studying, but it's nice not to have any tests.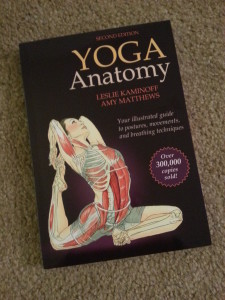 It was also a treat to attend the yoga workshop I mentioned yesterday, on Saturday and I am signed up for a backbend workshop this Saturday that I am really excited for.
Fun fact: the only workshop I did before taking yoga teacher training was a backbend workshop in Chicago back in 2013. It was super challenging, but fun and I learned a lot.
I have heard great things about the teacher for Saturday's workshop and since I missed his backbend workshop last year when he was in town, I am looking forward to seeing what he will teach me and to learn more about deepening my backbends.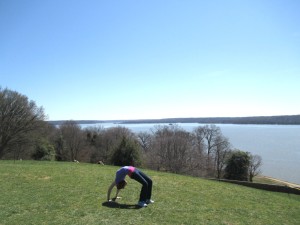 Well that's all for my recent treats! I am definitely learning to take some more time for myself and focus on things that make me happy, like a chocolate bar or taking a yoga workshop 🙂
Hope you have a fabulous Tuesday!!