We landed in Atlanta in the early afternoon. I again took a motion sick pill before the flight. It was a super short flight, under 2 hours. Once we arrived at the airport, we got our bags and made our way to the Uber area. Oh and it was extremely frustrating because my suitcase handle somehow jammed after Charleston and my bag only has 2 wheels so I had to lean and roll it. If the bag had 4 wheels it would have been the perfect height to roll along. So yeah…I need a new luggage bag now too. A bit of travel trouble through the trip, but I have to say, in the end, we made it and it was still great.
We checked into our hotel. Luckily they had a room ready even though we were a bit early. Then it was off to the aquarium. We were literally across the street from the aquarium so that was easy. We went to buy tickets first and then walked around for a place to eat since we never had lunch.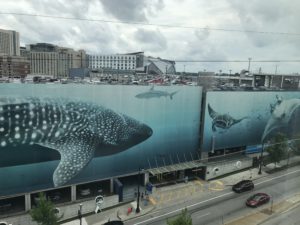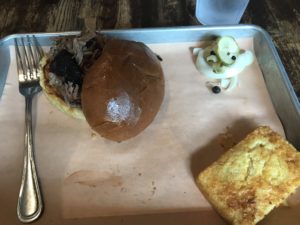 We found a BBQ place nearby and the food was great. I then saw a cookie store so we had to go inside and buy a slice of cookie cake. We walked over to Centennial Olympic Park to share the cookie and then it was back to go inside the aquarium.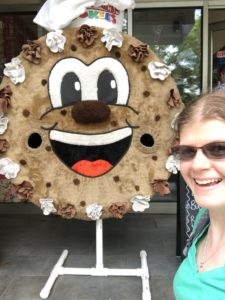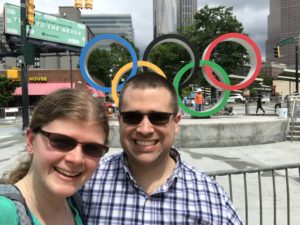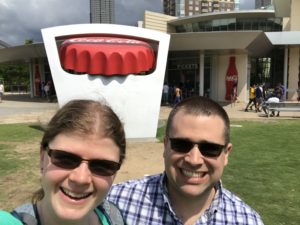 OK so I have been to a LOT of aquariums in my travels and I have not seen one so chaotic as the Atlanta aquarium. Yes it's big, but it also basically has a center point and then branches off to different areas which means there is no structure in the order to do things and they get THOUSANDS of visitors a day. It was a tad overwhelming.
We happened to arrive just as a dolphin show was about to start so we decided to start there. Now, I am used to dolphin shows as I went to them at the Shed Aquarium in Chicago growing up, but I have NEVER seen a dolphin show like this one. To be honest, I wasn't a huge fan of the trainers standing on the dolphins backs and noses. It was purely entertainment for sure.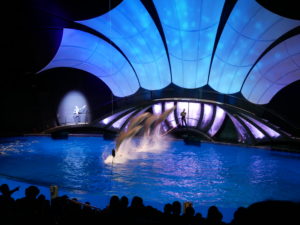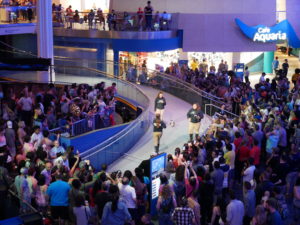 Also, it was a madhouse getting out of there when the show ended. It took a good 15 minutes or so and by that time, it was nearly time for our behind the scenes tour. This one Brian paid for. Behind the scenes was cool. We got to learn about why the aquarium was built and of course they mention all the donors. The Atlanta aquarium was built to have whale sharks (because the donor wanted them) and our guide described the process a bit of bringing the whale sharks in from Thailand and wow it's quite a process and also, I kinda feel bad for the whale sharks. Seeing the GIANT tank from above though was really neat. You can pay to dive with the whale sharks. They are huge, but have tiny throats so it's not like they eat people. You can also do a snorkel session in the tank. The whale sharks tend to stay near the top so if you really want to get up close to them, apparently a snorkel session is fun.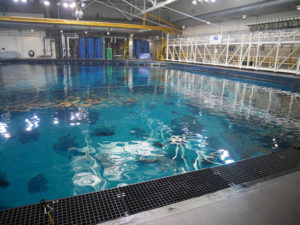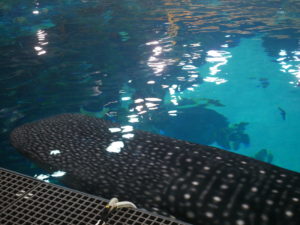 I think overall, you can tell this aquarium is built on entertainment. After going to the Charleston aquarium it's a completely different feel and I now have a new perspective on the entertainment in an aquarium and do feel a bit bad for the animals. That said, I know Brian wants to go back and dive in that tank. Maybe I could be brave enough to snorkel in the tank with the whale sharks.
With the chaos of crowds in the aquarium, we opted to get our hands stamped (actually they stamp your wrist so it doesn't wash off so easily) and leave for a bit. We headed to the hotel to relax. Then we wanted a snack to eat. There was a Chick Fil A nearby that I was kinda set on except we spent so much time in the hotel, that we realized they were closed when we left. So we tried to walk to another one, literally through Centennial Olympic Park and all around, only to discover, Google Maps led us to a Chick Fil A truck that also wasn't open. With it already getting late, we just went back to the aquarium. It was now 7:30 and the aquarium was open until 9, but the last dolphin show was getting out so it wasn't as crowded. Finally we had a bit more peace and could walk around the other exhibits and we could finally peacefully watch the fish swim in the tank.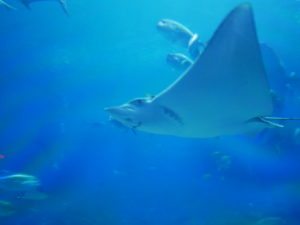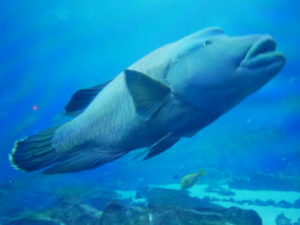 When we left, Brian wanted to get a salad, so we stumbled upon this Mexican salad place and both got salads. I don't normally eat so late but I ate some so I wasn't starving anymore. We had a good 20,000 steps for the day and my feet were tired.
Then it was off to bed and we checked out the next morning around 8am to head to the airport. Luckily the hotel had breakfast at 7am so I could have something to eat before. I was happy to get through security and have some actual downtime. Then it was off to Aruba for our official honeymoon!!
What's your favorite Aquarium?
I have been to so many around the world at this point. I remember loving one in Hawaii. The Chicago Aquarium will always have a special place in my heart of course. Going to Australia aquariums was also neat to see different species.