This weekend was wonderful and we had great weather both days too. Linking up with Katie for MIMM.
Beginning with Friday, after work Brian and I headed to get a couples massage followed by dinner. The massage was wonderful, of course I could have laid there another hour, the time went by so fast. I had made reservations for dinner at Erawan Thai Cuisine. The place had good reviews online, but they were super short staffed Friday evening. We arrived right at 7:15 for our reservations and were seated, but I think it took them about 30-40 minutes before we finally got our order placed. The staff was constantly running (literally) back and forth from the kitchen to seating the guests and taking orders. I felt bad, but also it really was terrible service. We were seated in the corner and for a while I had a whole water pitcher in reach. Much needed after a massage and I was pouring my own water. Every table was filled and there were a few other tables complaining about the service. Brian noticed one table had a couple of the people head out to buy wine (it was BYOB) and they returned and the order still wasn't placed.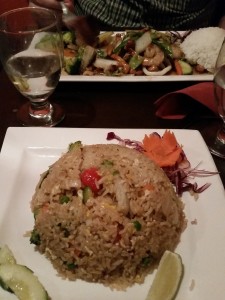 By 8:30 we were finally eating! Talk about ridiculous. Thankfully we did get our appetizers before that, but still. By the time we started eating, we basically asked for a box and our check. I literally had to wave the book with the credit card sticking out for them to grab it. I don't think we will be back there, though the food is good and maybe if it was a less busy time, it would have gone more smoothly. We caught an Uber home as the train wait would have been another hour.
I was so excited to sleep in on Saturday, laying in bed until about 8am. We took advantage of the beautiful fall day and spent a lot of time outside and around the New Hope, PA area. We began at Bowman's tower. The elevator was out of service but according to my Fitbit it was only about 5 flights of stairs. It was a beautiful view over the Delaware river.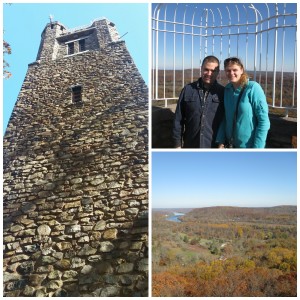 We didn't spend too long there before we headed back down the hill and decided to eat at Bowman's Tavern. We arrived right at 11:30 when they opened and I am happy to say the service went much more smoothly than Friday night. We were done within an hour and the food was delicious. I decided on a light lunch with the kale salad.
From there, we headed around the corner to Solebury Orchards in New Hope. It was the last weekend for apple picking. We actually didn't pick any apples, but purchased cider donuts for dessert and I had hot cider and Brian got cold cider. We also just enjoyed walking the orchard and tasted a couple apples.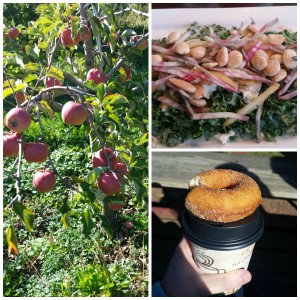 Our walking around didn't end there as we headed to Peddler's Village. Last year we went in December after I heard about it from a co-worker. This weekend was the apple festival so it was PACKED. We barely found a parking spot. Luckily I spotted a person leaving and we snagged a spot. We didn't mind walking too much. Can I say how much I treasure these moments without kids to unpack and stroller around or have a melt down?!
We weaved our way through the crowds and I found my way to The Lucky Cupcake and got an apple pie cupcake! It was delicious!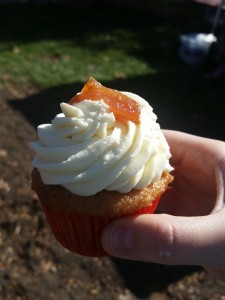 While we were there, I also scored a couple deals with new pj pants and some fleece lined leggings. As soon as I tried on the leggings I was sold. They are so fuzzy inside and they are going to be my new weekend pants lol.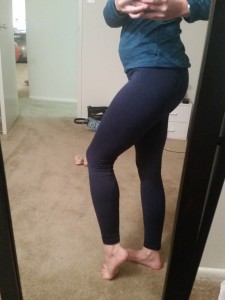 Last year we didn't make it into any of the restaurant in Peddler's Village as there are always long waits. I had called one place in the morning and they were not taking reservations but recommended stopping by 30 minutes before we wanted to eat. Since we were mainly just walking around, we decided to eat an early dinner so we headed over to Buttonwood Grill around 2:30 to put our name in and they were ready to seat us shortly after 3:15. We walked around a bit in between and came back. It worked out since we ate lunch early and the food definitely didn't disappoint. From the appetizer of spinach and cheese dip to my half rack of ribs and Brian's "naked" (bunless) burger.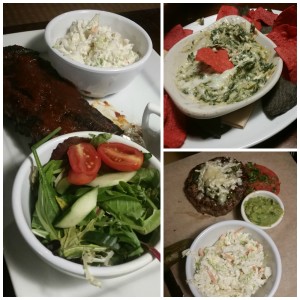 Then we were able to head home; first a stop at Wegmans not too far from where we were and arrived home at 6:30pm. Though we felt like it was 8pm by the time we got home. It was a fun day going all over New Hope for exploring and dining.
We made some homemade kale chips for a light snack and then decided to watch Forces of Nature with Sandra Bullock and Ben Affleck and eventually headed to bed around 10 which turned into 9 when I switched the clocks.
A wonderful night's sleep, it was great to wake up at 7 and have the sun out again as the mornings have been dark. The morning was laid back. We had to pick up my car that I had dropped off Saturday to get my winter tires on and an oil change. Then we watched Zootopia on Netflix. Neither of us saw the movie before and I have to say I really enjoyed it. It is quite long though at 2 full hours.
Then I was off to teach yoga and we decided to head to the outlet mall for a bit in the afternoon. I am glad that neither one of us is a big shopper, but of course you go to the mall not really looking for anything and end up walking out with something. I got a nice fleece (pictured with my fleece leggings above, hello winter weekend outfit!) and a gift. Brian scored well as he is in need of new clothes after losing some weight and clothes that are not so worn. Every once in a while new clothes are needed.
We came home in time to make dinner, some pork and cauliflower fried rice and then Brian had to head back for wok in the morning up North. It was a quiet evening for me, which was perfect for catching up on some cleaning and writing.
Do you enjoy shopping?
Do you own any fleece leggings? If you don't I highly recommend them 😉