Do you ever have those moments where you are laying in bed and you just can't seem to get comfortable to sleep? I had one of those nights the other night. That's when my brain just kept thinking and that's when I come up when some of my best blog post ideas. Of course I reached over to my phone and made a note, Non Attachment. I kept thinking about this idea and how I really have let go of many things over the years. In yoga, non attachment is the last of the 5 yamas, Aparigraha. This is a theme I consistently used in my classes as I believe everyone needs that reminder to let go and practice non attachment. While it's hard, I believe my life has improved from practicing this. I feel freer and like I have more space to breathe.
Growing up, I was very attached to my things: toys, clothes, certain foods bought for me, etc. Rarely was I that friend that lent out clothes or traded toys. What was mine, was mine only. I worried I would never get my items returned. I worried I would make a bad trade. I wanted to collect everything growing up. I remember watching on Disney channel how they would have kids who showed their collection of something. I always thought collections of items were so cool and I wanted to collect EVERYTHING. Eventually, I realized due to storage space and money that I couldn't collect everything, but I certainly did try for a while with dolls, beanie babies, pokemon cards and more (children of the 90s relate?).
Fast forward to 2008, when I graduated high school and was packing up for college. What do I bring with me to a dorm room? It came down to the essentials: clothes, computer, tv (not super essential but my computer screen was also a tv so that was cool), school supplies, mini fridge, a few select stuffed animals for my bed and some photos. I think that about covers the essentials. We packed the Subaru full and drove off to Buffalo.
My school didn't have a Fall break and I was a plane flight or 12 hour train/car ride from home, so I didn't come home until Thanksgiving that first semester. When I came home that first Thanksgiving, I noticed my room looked like I had never left (except for the extra boxes thrown in there by my family because when you leave, bedrooms become storage, be warned). I realized then that I had gone 3 months without any of the items in my room at home. Here's the thing, I didn't miss most of them either. I came home with my suitcase of clothes for the break and I realized; I have WAY too much stuff.
Despite realizing at that moment I had way too many things, it was still hard to let go. I began the process of getting rid of old clothes, toys, and junk during my first Christmas break. This process continued during the summers in college. It was slow moving as certain things, I would look at them and they would bring back memories and I'm thinking, but I can't throw away this ticket stub to this movie. Yes, everything, I kept EVERYTHING!! I kept files of school papers and tests and every summer, I would condense it down farther. Then add the college papers and books to the mix…wow, stuff sure accumulates.
In 2012, I graduated college and didn't really have a plan. I moved home, applied to jobs and took the first job I was offered. It paid slightly higher than minimum wage, but there was no way I could afford an apartment (especially alone) in my area. During that job, I worked on condensing my things further, selling what I could on ebay during the Christmas season. I made a good amount of money on Harry Potter legos that were simply collecting dust in my closet. Sure, I wish I could have kept them because the sets are retired, but I had no use for them. They were built and decoration for the most part and it was better for me to sell them.
In February 2014, I was laid off from my job. It was honestly the biggest blessing. I decided to move to Philadelphia. [That's a whole other story.] Since I was moving though, it was really time for me to pack up my childhood room. I realized I had let go of a lot of attachment to my items and I packed up my car a couple months later with basically only essentials. At the time, the number of clothes that I actually wore fit into 2 suitcases, a large and medium suitcase. Then I went on my longest solo driving trip, driving to Philadelphia from Chicago. I spread it across 3 days though as I stopped a couple places to see friends and family.
I arrived in my apartment, quickly unloaded my car and slept on the floor on blankets my first night. No furniture came with me and I arrived late in the evening. It took some adjusting, but I got an air mattress and then Brian met up with me and we got an actual mattress. It was a good lesson though in gratitude and letting go. I learned to live with what I had.
Later my parents shipped me the rest of my items and my dad drove some stuff out to me. Most of the stuff sat in boxes in the unused living room until I moved to a different apartment 11 months later. Then I really started to go through boxes and again sell a few items on ebay. When you move multiple times in a short time frame, it really teaches you non attachment because you don't want to move unnecessary boxes.
In December 2016, I decided to leave my job and leave Philadelphia to travel for a bit. This was my biggest non attachment lesson so far. I sold most of my furniture and items I could and condensed my boxes into a small space in the basement of the house I currently live in. But first, I lived out of just a backpack for 4 months!! Out of all the tourist stops we made through Australia and New Zealand, I didn't buy much at gift shops because I knew it had to fit in my bag to carry.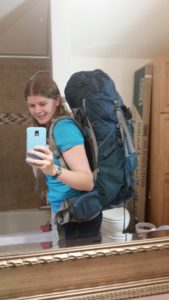 When I came back to the states and made my most recent move, I couldn't get to most of my items I stored. In fact, I still can't. The reality is, about half of my boxes are books and another 25% are American Girl doll stuff and beanie babies I haven't let go of. The other 25% is workout stuff and kitchen stuff. Things I could use, but easily replaceable for the most part so I have bought some items in the meantime.
As you can see my non attachment has been a slow process and many years of work. Nothing is going to happen overnight.
I want you to ask yourself though, what are you attached to? Before you even buy something, try to ask yourself, do I really NEED this item? (Hint: that's the key to saving more money) Or maybe if you are buying new clothes, find something in your closet you don't like anymore and get rid of that. Believe me, the baby steps add up.
Like I mentioned in the beginning, I feel so much freer now. I don't get as caught up and attached to items as I used to (minus the whole being glued to my phone because I am still working on that). When I had my own apartment, I loved having extra space. I literally would roll around on the floor or do little sprints from one end to the other end of my apartment. I have found I like being free of clutter and items not serving a purpose. Living minimally and continuing to practice non attachment each day.
Thanks Amanda for letting me think out loud.
So tell me, what are you going to try to let go of?