Good morning everyone. I hope you all had a good weekend. My weekend went by so fast as I was in an all day yoga anatomy workshop with Leslie Kaminoff both Saturday and Sunday. Yep, 9:30-5 each day and the workshop was a 40 min drive away so basically it was like work, except a lot more fun! Joining up with Katie for MIMM.
All workshop photos credit to Lydia Mann.
Friday after work, I did my grocery shopping and prepared a bit of food. I'm kind of winging it this week for meals as I knew I didn't have a lot of time to cook and I didn't want to over prep. I will have to get creative using stuff from the freezer and pantry this week.
Friday night I made pumpkin banana bread. I didn't really have enough ripe bananas so I used some not so ripe and a little extra pumpkin. Still turned out delicious!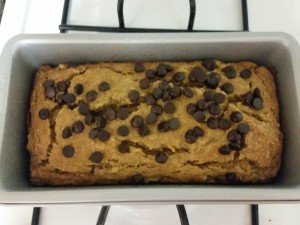 I also had some turkey from the freezer to use so I made turkey tacos. I actually got a pack of fajita seasoning from the store and used that, 1 lb of turkey and a tomato and some fresh garlic together. Then I topped with avocado and a little bit of cheese. I prepped this so I could bring them for my lunch each day of the workshop. [I had a picture but my phone crashed as you will read below]
Then as I was cooking, my phone decided to stop working. I was worried it was dead for good, but instead I spent time doing a factory reset and only installing back half my apps and now I have like 12x more space on my phone!! My smartphones always kill themselves with updates and I have purposely been ignoring the update/didn't have storage on my phone for it and then it finally got overwhelmed.
I am thankful Google backs up my contacts and Dropbox backs up my pictures. I really only lost text messages and a few notes made in the notepad, so not a huge loss. So happy it works again!! I hope it can last for a while longer now.
Saturday I was awake at 6:30, but had my alarm set for 7. I laid in bed until then and then made some pancakes and watched TV before leaving around 8:30. I always feel so at home at this yoga studio, I love it. It was great to see my teachers from teacher training and enjoy the workshop.
The Yoga Anatomy workshop was with Leslie Kaminoff who is an author of the Yoga Anatomy book and founder of The Breathing Project in NYC.
We spent the first 3 hours talking about the breath and I must say the time flew by. So many great discussions and learning from everyone's unique experience in the room. We did cat cow and switched the inhale and exhale. We have ingrained in our head that cat is exhale and cow is inhale. Switching it made me think more. We think in terms of the front of the body, not realizing we can breathe into our backs. When you think in terms of the back, the cat-cow breath being reversed makes sense. To sum it up though, there is no "right" way.
"There are correct ways to do techniques. There is no one right way to breathe." – Leslie Kaminoff
We talked about breathing as a "shape change".
We watched a video of a jelly fish. It was so interesting to relate the jelly fish to our diaphragm movement as we breathe.
3 hours went by and then it was time for our 90 min lunch break. Since I brought my food, I ate in the room within the first 20 minutes and then decided to go for a walk. We didn't do much activity so I needed to move. I walked around the town, stopped at Wawa for a water and enjoyed the sun. It was a bit chilly, but sunny so I was working up a sweat with all my layers after 40 minutes of walking.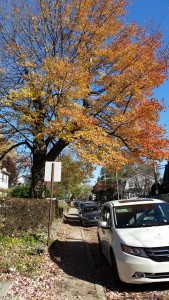 Back to the workshop, we continued a bit of our breathing discussion and then talked about forward folds. We worked on doing a forward fold, vertebrae by vertebrae, letting our arms dangle and not trying to go into the hips right away. It was hard to move so slowly and think about each vertebrae folding forward.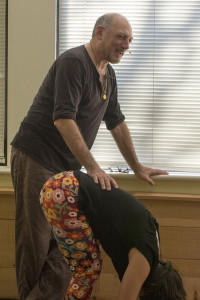 Then we did a little bit of backbending with camel pose. As I have heard from teachers before, it is more about lengthening your spine up. Then what I learned was that you need to start putting your head back otherwise you will reach a point where it is too late and when you drop your head back it will feel really uncomfortable.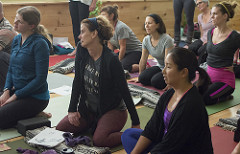 Leslie really emphasizes to experiment with different techniques and let your students try different ways, because one way will not work for everyone.
"It is far more empowering to lead a student in an inquiry rather than issuing a cue or a correction." – Leslie Kaminoff
Sunday it was back for another full day. Sunday we moved more and did some sun salutations experimenting with the breath a bit and then went into a warrior sequence. This warrior sequence was different from what I normally do in class. We found a warrior 1 stance and then kept our feet where they were the WHOLE time as we moved to warrior 2 and triangle variations. I will just sum it up as really challenging to have a shorter stance than I am used to. In warrior 1 I tend to have problems with my knee of my back leg. I noticed as we focused on the 3 points of the feet, it helped and also not forcing a shift in the hips. It is not healthy to square the hips, which is what I and other teachers cue. I am going to try to not cue that in warrior 1 and simply put more focus on the sternum.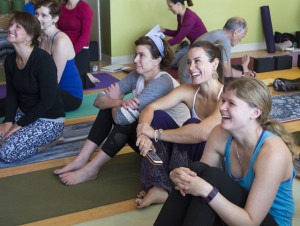 The morning went by fast being up and in discussion a lot. Then we took a break for lunch. I enjoyed walking around the neighborhood again.
When we returned, we talked about alignment cues to rethink. As I mentioned above, squaring the hips was one of them. We also worked on our arms, learning the bone to bone structure from the arms to the spine. There are about 8 main parts you have to go through as you go from your wrist to elbow to shoulder and around the clavicle to the back of the heart. That is just my quick summary of it but it was interesting. We then worked with partners, one of us being a stick and the other holding a warrior position and us falling forward with our hands meeting. When you center your gravity to one point, it makes that person feel so light!
Overall the weekend was amazing! I always feel so at home at that studio and it was nice to be surrounded by people of all ages with similar interests and different stories about yoga in their life. We had a lot of great discussions. Even just learning a bit more about Leslie Kaminoff was so interesting and his life experiences.
Workshops like these make me question so much and also let me know I have soooo much more to learn. After being out of school for a bit, I really have missed learning and I am so glad I have the opportunity to grow in myself and help others with these yoga experiences.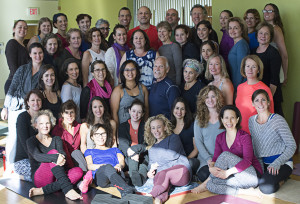 All workshop photos credit to Lydia Mann and Leslie Kaminoff.
What are your favorite learning activities?
Have you studied Anatomy?