Happy July 4th to my fellow Americans!! Also Happy belated Canada Day to my Canada friends. Hopefully everyone is enjoying the long weekend. I have been soaking up as much pool time as I can, though it has been a bit breezy here and cloudy making it the perfect temperature for laying by the pool without actually going in it lol.
I would back up to Friday night, but there isn't much to say. I actually stayed at the office until 6pm Friday, while most people started heading out at 3. I was behind on some things and knew I could not stay late Tuesday so decided to catch up Friday. I got home and sat down to find Life Unexpected on Netflix and have pretty much finished the first season this weekend. This is why it is good I have decided to not watch tv on weekdays (other than Friday night).
Saturday
I went to the gym to swim at around 9am. I now know why it is better to swim around 10am as the pool was a bit more crowded at 9, but eventually I ended up with my own lane. The first 20-30 laps honestly felt like an eternity for some reason. I finally got more into swimming by the end of my hour, but I was just so tired for some reason. I did about a mile and a half total, which is what I usually stick to for a short swim. There was tons of stopping to defog my goggles. The pool at the gym is sometimes too hot and goggles fog easily which is annoying. Anyway, I was happy to be done early.
I then headed to Cherry Hill for some shopping and groceries. I went to the mall with a goal to find a new purse. I have been somewhat searching for 6+ months for a new purse and July 4th sales were a good reason to check out stores. I usually end up going to the mall in search of something and walking out with nothing or 5 things that weren't the item I was planning to buy. Luckily I had a bit more luck Saturday strolling the mall and I ended up with a new purse, a necklace for a dress for possible engagement photos and new sunglasses from JC Penny. All the items were at least 50% off, which was awesome. After my successful shopping it was lunch time and I wanted to go to Bobby's Burger Palace attached to the mall. I have been a few times with Brian and I love it! I got the LA topless burger and some sweet potato fries. I am not that big on sweet potato fries, I prefer roasted sweet potatos, but this place has great fries.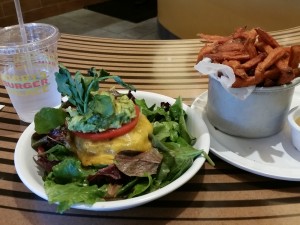 After inhaling my food, it was time to go to Wegmans. I was glad I ate before so I stuck to my list.
By the time I got home, it was mid afternoon and I changed and sunscreened up for the pool. Like I mentioned in the beginning though, it was a bit cloudy and breezy, so after reading for an hour by the pool, I left. I didn't feel like getting in the water and I had already swam in the morning anyway.
Sunday
Though a day early, I topped my Sunday pancake with some red and blue.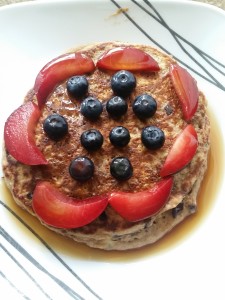 Then I decided to head to the park down the road for some yoga and enjoy the view.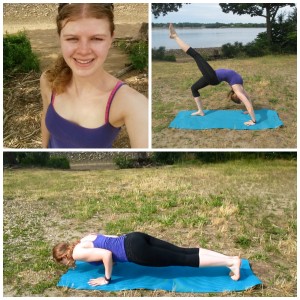 I worked on some meal prep before teaching yoga and then came back to find the cats like this.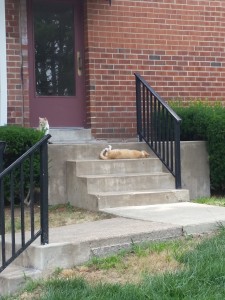 I headed to the pool in the afternoon which was packed for the July 4th celebration including free food. I actually came in as they were having the lifeguards race the snack bar kids so I didn't get my ticket for food, but I don't like hot dogs anyway so that was fine. I ran into a friend I met at the pool a few weeks ago and met her friend and almost 3 year old son so I joined them and we talked and went in the water and had fun. It was still a bit overcast outside with clouds, so even though the water wasn't that bad, once you got out, you were cold.
Once I got home it was time to make dinner. I made this burger recipe but used ground turkey instead and the burger was very tasty. I was roasting some sweet potato for the week and decided to spiralize half of one as well. At the pool I was telling my new friends about spiralizing and how fun it is so I was craving something spiralized lol. Sometime, my new friends and I are hoping to have a potluck type dinner so we can all bring a dish and I think a spiralized dish might be something I would bring.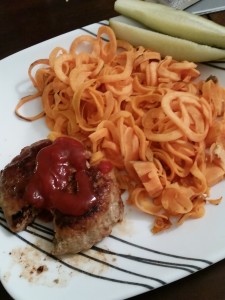 In the evening, I was watching tv and heard some fireworks going off. Living right on the river has its perks. It was a nice show and went on for a good maybe 30 minutes, but I couldn't see some of the lower ones.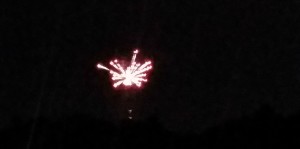 Unless there are more fireworks tonight, which I expect I will see some, that is my extent of watching fireworks this 4th of July. I don't risk my life going into the city with the crowds and concerts anymore, but hoping I might be able to find the live stream online. Philadelphia does a HUGE celebration on the Ben Franklin Parkway leading to the Art Museum and then the fireworks are at like 10/10:30. By the time those start, I need to rush to catch the last train. I did it once 2 years ago and never again (unless I am with a big group of people).
Today's plans are to get some yoga work done and blog work and simply relax. The sun is shining more than yesterday so another trip to the pool will be happening too. I also started out my morning with oatmeal, red and blue.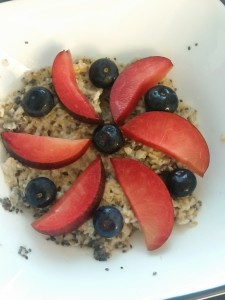 How are you celebrating the 4th?
Did you get to see any fireworks?