Well hello there. Happy first Monday of April and happy birthday week to me!! As I have been getting older, I have tried to treat myself for my birthday more. In January when I saw there was going to be a weekend yoga retreat with one of the teachers who led my yoga teacher training the first weekend of April and only a 3 hour drive away from Philadelphia (at the Himalayan Institute), I took that as a sign that I needed to go on that retreat. I am so glad that I did. It was the perfect weekend getaway with lots of learning, love, kindness and yoga.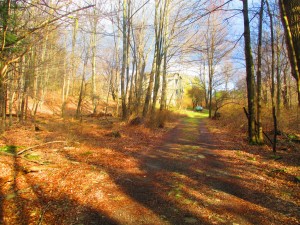 I will warn you in advance, this post is a long one.
Friday I worked a half day and then picked up Danielle (a fellow yoga teacher trainer graduate) and got my things together and we headed on the road. First stop, Panera for lunch.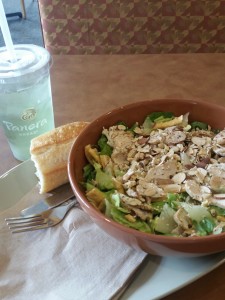 I enjoyed the Asian sesame chicken salad and a green tea since I had a reward for $1 off a beverage. This was my last meal with meat until Sunday evening. I will go more into that later.
We made good timing, arriving shortly before 5pm (we had left at 1:45). We talked for most of the way and it was nice to get to know each other a bit more, talking about things other than yoga haha. Of course talking got me distracted a couple time as we made wrong turns, but we eventually found the correct way. I was good until the last 15 miles or so when I really had to pay attention to turns and the windy hilly roads. Luckily talking distracted me from total freak out mode and feeling sick, but I was happy when we finally made it and I didn't have to worry about my ears popping any more.
It was a beautiful day on Friday, 70 degrees, so after finding our room, we headed outside for a walk. We found the "sound of music hills" as I like to call them and Sunset Pond. At first I thought I had remembered reading Sunrise pond and I was like, huh that doesn't make sense, the sun is setting over it.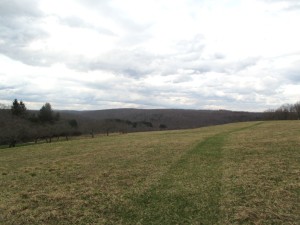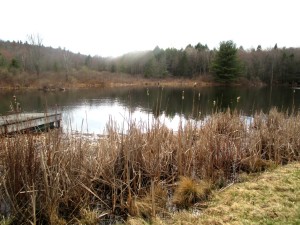 We were told about a beaver that lived near the pond, but we didn't see him.
Dinner was at 6pm. Luckily I am not as picky as I used to be and I was hungry. The dinner was vegetarian chili, cornbread, some sort of farro vegan stir fry (which I got seconds off because it was amazing!) and salad. All of it was very delicious.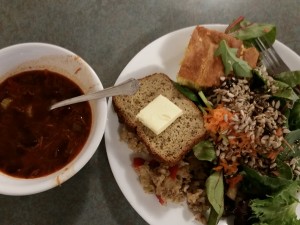 Our program began at 7, we were quickly introduced to the institute and learned the rules and then we went on to do a quick name game followed by a yin yoga practice.
I was so sleepy after yin yoga, I texted Brian for a bit and headed right to bed. I also had zero phone service/reception so I was on limited wifi only for the weekend. That was perfect though as it helped me to focus more on the practice and retreat schedule.
Saturday was a full day. We started at 6am with a vinyasa practice. When I saw that on the schedule I was like, wow that is early. However, my body is definitely adjusting to the 4:45am wake up for the gym now, so waking up on 5:45 wasn't so bad especially since I was asleep by 10pm. Luckily I brought some granola to snack on, as I had to get a couple handfuls of that in my belly before practice. I can't practice on an empty stomach because then my stomach cramps and I get too hungry. My granola held me over through the wonderful practice and then it was a short time before the dining hall opened for breakfast. Breakfast was oatmeal and banana bread and fruit and more bread. The issue I have with the vegetarian diet is carbs, carbs, carbs. I love my oatmeal in the morning so that was fine, but I really enjoy my bacon or sausage at home with it to balance it with protein. That is just what works best for me, but anyway I made due. I love my carbs, but I also need balance.
After eating, I had about an hour where I enjoyed journaling. Every time I am away and with limited internet, I find so much joy in writing with pen and paper. I really should do it more often than when I am away.
Our morning consisted of 2 hours of learning some muscles and bones focusing on the lower half of the body and then just over an hour of a yoga practice, partially with partners and wall work. I love doing partner activities and finding ways to get a bit deeper into poses.
Then it was lunch time. I was so hungry and definitely overate and ate way too quickly. We had white bean soup, salad, rice and roasted veggies. It was a rainy morning, but it had cleared up by lunch so we put on sneakers and headed outside. We didn't really have a place of where to go and decided to hike the red trail with Robyn. This was an easy and quick trail, though I was focused on where my feet were placed and ran into some branches at one point, but other than that, we were good.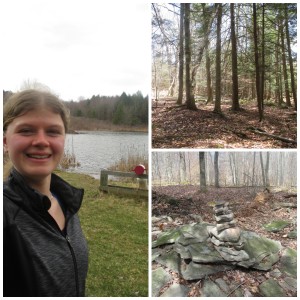 After the short hike, we went by the pond again, no sign of the beaver and then it started to rain again so we headed inside. I showered and then relaxed in bed catching up on reading some blogs from Friday. My stomach still felt off and laying down felt the best.
From 3-6 we worked on anatomy of the upper body and then worked on some arm balancing and strengthening exercises to work on handstand. We did some partner work and eventually had a partner spot us and catch our legs for handstand. I tend to stay away from handstand due to my shoulder and the last time I tried with a partner was in teacher training a year ago. At that point, my arms were giving out and I didn't feel like I had the strength or stability in my shoulder for the pose. This time was very different. For one, we were in the middle of the room, instead of a wall and secondly, I felt sooo much stronger. I really attribute that to my weight training. Weight training is especially important for my shoulder as I have physical therapy exercises that I try to do a couple times a week during my weight training. It was great that I felt stronger and gave me more confidence about my future practice with handstand, that it could be possible.
Dinner time arrived and we had butternut squash soup (that I didn't try, it just didn't look appealing to me), leftover chili, falafel, veggies, salad and bread.
I forgot my phone to take photos of my meals on Saturday, but they were all really delicious.
After dinner, we had a restorative yoga practice. For whatever reason, my mind kept wandering though and even after the practice when I thought I would be tired, I wasn't. I had a tough time sleeping Saturday night but still made it up at 5:45am once more on Sunday morning for Nikki's vinyasa class. We also woke up to snow on the ground.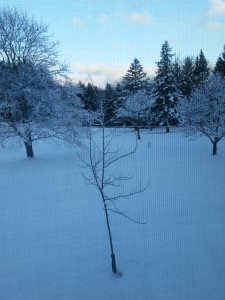 The class was good but my arms were so sore in the morning so it definitely challenged me. Then it was time for breakfast. We had an oatmeal pudding type thing and tons of toppings. I topped my oatmeal with granola (probably repetitive, oats on top of oats) and the delicious whipped cream that had maple syrup in it. I also had half a grapefruit and a piece of bread not pictured.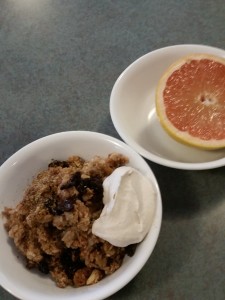 After breakfast I made sure most of my things were packed and enjoyed a bit of down time. Then it was back downstairs to talk about the spine and do some backbending. We did a lot of partner work which I enjoyed, supporting each other in cobra, dancer and wheel pose. We ended with some twists and savasana and then took a group photo and cleaned up all the props.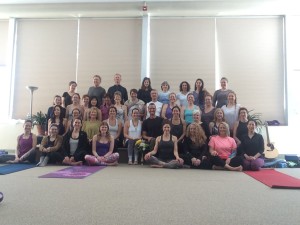 The end came so quickly as we packed up and headed to our last lunch. I made sure to have a light lunch, we had another bean dish and I had some salad. Salad is fine with me, but I did notice that perhaps the beans made me feel bloated this weekend. All the food tasted wonderful, it just didn't digest with me very well.
After lunch, I scraped off the snow from my car. It took a few minutes to get the wipers defrosted and I had to fill up a tire or two of course, but luckily the light did go off after driving a few miles.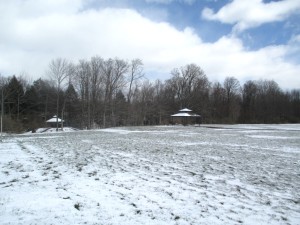 Before I left, I also purchased a cookie from the cafe. I realized I had gone 2 days maybe 3 without chocolate or a cookie and I couldn't pass up the purchase of a cookie before I left.
I dropped off Danielle in Allentown which worked out well and then stopped at Wegmans. By the time I arrived at Wegmans, I was starting to get hungry for dinner. I got a cooked chicken for salads, but ended up eating a leg with my dinner, because meat was necessary and also got some teriyaki frozen broccoli, kale brown rice veggie sushi and some hummus (not pictured). That's what happens when you go to the store hungry.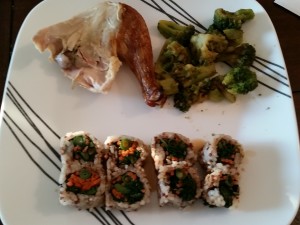 I got home and couldn't wait to eat my dinner and then ran around my apartment trying to get everything done and ready to go for today.
I am so happy I was able to go on this retreat. It went by so quickly, but that's because it was so much fun. I also learned a lot of anatomy, even if some was repetitive, I need that to remember it.
Have you ever been on a retreat?