Since I discovered an Aerial yoga class after moving, I have been going each week. I love the class, not only to meet people in the area, but also because it's so much fun! Not only is it fun, but it's challenging at times. We warm up with some lunges, arm pulls and planks using the silks. Each week I learn some new movement and then re discover how weak or strong I am. Sometimes it takes me multiple tries to get into something and other times, it's a piece of cake. Sometimes I am scared to do one of the flips and that's ok too. No matter what class you are in, it's important to know your limits and only go where you are comfortable. I have noticed that one week, I may learn the move but not quite get it and then the next week, it comes easily. Everything takes time to learn and get comfortable with.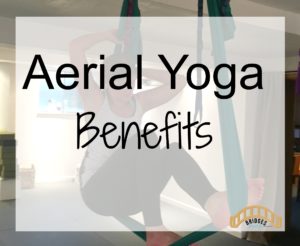 I find there are many benefits to aerial yoga and just want to share a few of them with you. If you are into yoga and acrobatics, you may want to try it out sometime. If you don't have a studio near you that offers aerial, maybe check out studios while you are on a trip in a city and take a class. I am always up for trying a new workout and this class can definitely be a great one to add to your workout variety.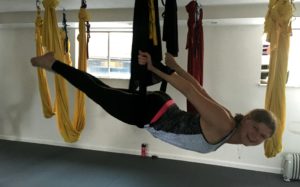 Benefits
Strength building – Aerial yoga challenges your muscles in a new way on the silks. It helps to build core strength and arm strength and can really be a full body workout. I somewhat compare aerial yoga to pole dancing. I have a friend who competes as a pole dancer and her strength is seriously amazing. I have taken a few pole classes myself as well, but it can be tough on my shoulder. I find the silks to be a better choice for me and I know where my limits are.
Improves flexibility – Just like regular yoga can improve your flexibility, so can aerial but in a bit of a different way. The suspension from the silks helps to get a deeper stretch in poses. The silks definitely take some getting used to as they wrap tightly around your body.
Playful/improves mood – one of the things I love about aerial is that it reminds me of being a kid, swinging on a swing and then hiding into a cocoon in the end for savasana. Also all the flips and tricks are just so fun. How can it not improve your mood when you are having so much fun?!
Improves balance – one of the moves that we start class with is putting one foot in the silks and then stepping into a lunge. While the silk is holding your back foot, you would think this would be easier, but it makes it more challenging since the silks can swing side to side. I have definitely noticed a bit of improvement in my balancing since starting to take the class.

floating buddha
These are just some of the benefits I have experienced with Aerial yoga. You might have a different experience and that's ok. Remember to be safe and have fun with your workouts. Workouts you look forward to doing are the best ones.
Have you ever done Aerial yoga?
What's your favorite workout?