Yesterday in a discussion with my boss, he mentioned how he never rushes to be anywhere, he allows plenty of time to get places, so he drives carefully and the speed limit. Well even though it wasn't really advice, I thought about how I always rush to yoga or always rush to the gym after work. Yesterday I took my usual train, walked home, changed and headed off to yoga wondering if I would make it in time. As I was driving, I looked at the clock, it was 5:30 and I was half way there already and still had half an hour to get into the class. I took my time getting there, parking and walking over to the studio and I ended up being the first person there for the class and 15 minutes early! This just proves how I really don't need to rush, I have plenty of time to make it to the class after work.
Since I was there early, I was able to relax in the empty yoga room until other students arrived and the class started at 6. Practice was cut 15 min short due to the teacher's other commitment but I really didn't mind. I saw it as 15 more minutes in my evening and went on without rushing, deciding last minute to stop at Trader Joes for a few things. Then I continued driving home and noticed firetrucks and a street blocked off. The fire truck ladders hung a flag, our flag for the USA! I suddenly forgot that I was hungry and had not eaten dinner yet. I turned onto my street, took my time to park and walked around the corner to watch the last 20 minutes of the ceremony.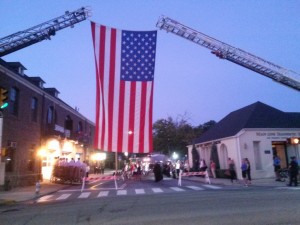 They had a boys choir singing when I arrived, then they played a short video of clips from 9/11/01 on the brick firehouse. Seeing those clips, even by standing across the street and hearing the song with them, just brought back more memories of that day and the news surrounding the days and weeks that went by that firemen, police and emergency responders were searching for people that might be still alive. 
I was thankful that I went to the earlier yoga class, that I got out early and was able to watch part of this ceremony. I nearly had tears in my eyes as the songs were sung. They ended the ceremony with Proud to be an American. I certainly am proud! They released red, white and blue balloons into the sky as they closed the ceremony. [you can kind of see the balloons in the picture below]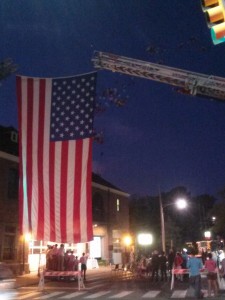 I feel like this day is a good reminder to people that you never know what tomorrow will bring. You really never know if you will even be alive tomorrow. This leads back a bit to never rushing, especially when driving a car. You need to be aware of your surroundings. It's not worth it to speed. You should also take moments to appreciate your life. Yes sometimes we are all rushing around and don't have a chance to sit down. I know that I am always rushing around, but Wednesday night was one night where I took some time to sit down, relax and reflect and appreciate life. I think we all need those nights once a week if we can get them.
So please take a step back, take a night off, find some time, even just an hour on a weekday or the weekend, where you can relax and appreciate that you are alive today.