I had about 4 days in London and had fun exploring the city for the first time. I reached out to multiple bloggers beforehand to get ideas of where to go and got so many amazing suggestions. Of course I hit up many of the tourist spots for my first visit. I really enjoy walking around a city to explore and that's exactly what I did. So here's a little recap of how my time in London played out and if you are planning a trip to London in the future maybe it can help you.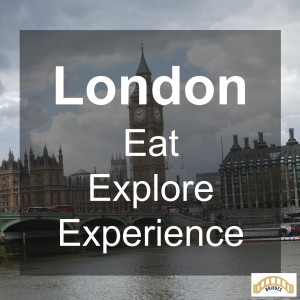 First off I stayed in a room from Airbnb in the suburb of Fitzrovia. I got the suggestion for that area from Georgie. It was within walking distance to Oxford street which is big for shopping and also plenty of train stops. I absolutely loved the location to go back and forth. It meant I could stop back in the afternoon and head back out easily.
I decided to split things out into Eat, Explore (walking) and Experience (activities to do). Each of these items are my personal experience and things I did.
Eat
I made my own breakfast and dinners each night. Lunch was usually a sandwich I would pick up where ever I was at, but I did want to mention a few places for food.
Planet Organic – I have been missing protein bars while on the road. Australia and New Zealand don't really have them but I discovered Planet Organic in London and found some Cliff bars and tons of other great Paleo and other bars. Basically I would buy most of this store if I could. They also have a hot food counter and meals to go.
Raw Ligion – I tried my first Matcha Latte made with almond milk. It made me a little jittery as I am not good with caffeine but it was definitely a good drink if you are into matcha. They also had Matcha tea, which I feel like I might have enjoyed more. This place is in Fitzrovia and is dairy free! They have great snacks and hot drinks.
The MaE Deli – If you have heard of Deliciously Ella (blogger and youtuber), this is her and her husband's deli. All food made from real ingredients and a must stop for breakfast, lunch or dinner. I love how for lunch you got to choose 4 things from the hot or cold and it was only 9.75. I also added in a red velvet cupcake because I had to try one of her treats. Everything was amazing!!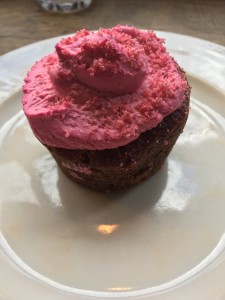 Borough Market – This was a top place recommended to me and I made sure to check it out my first day when I was starving after having very little food in my travel time to London. The market has food from Italy, France, etc, yet I chose a burger, because I'm like that and I just wanted a big chunk of meat after all the processed stuff I had to get me through my travels. It hit the spot!! Also there is tons of produce. I couldn't pass up the strawberries 2 for 1.50 pounds and enjoyed snacking on those for a couple days. If it weren't for the fact that I knew I had to carry my bags for the remainder of the day, I would have bought more produce, but again I didn't have that many days in London anyway, so what I bought was perfect.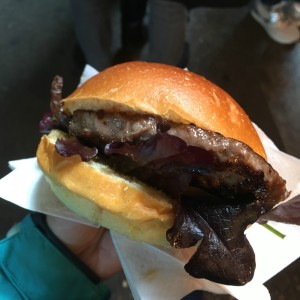 Explore
The London Eye – You can't go to London and not check out the London Eye! By check out, I mean walk by it and take tons of photos by the way. I was walking by it on a Saturday and I think there were a couple hundred people waiting. Also it honestly was a bit pricey for me, but it is a must see and if you do have time and the money to ride, go for it.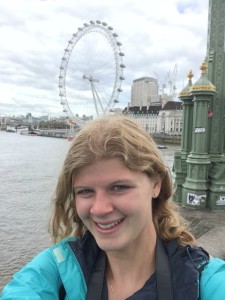 Big Ben – Another must see in London. It was great to walk by and take a picture with Big Ben.
Westminster Abbey – Next to Big Ben, so you might as well check it out. If you are around on a Sunday, I believe they hold a service here as well.
Buckingham Palace – I walked all the way from the London Eye to here which is quite a walk! I had hoped to go back another day as they were wrapping up filming something and it rained as I walked past, but I didn't get back, so I am glad I walked by here on my first day. Another place that is just so nice to see the detail of in person.
Regent's Park – I stayed just a 20 minute walk from here. Regent's Park is the park you walk through to get to Primrose Hill. The park is huge and the trees were flowering when I visited. I also walked through on a Sunday afternoon and it was super busy. I can tell it is a place that people love to come to with their families. The London Zoo also sits next to the park. I got a little sneak peak at some of the animals that can be seen from the park area without visiting the zoo.
Primrose Hill – The famous Primrose Hill!! Oh and it was a hill. Luckily it's not too high up as by the time I got here, my legs were dead from the morning walking I had done. At the top you get a fantastic view of London and can see the London Eye in the distance. Definitely worth the walk and a great way to get a little exercise.

Experience
Warner Bros Harry Potter – If you are a Harry Potter fan, you MUST take this tour. I was actually super lucky to find an open slot. I looked on their website first and they were sold out for a month or more, then I looked into bus tours and found one. Book in advance when you are planning your trip.
The tour is amazing! It is self guided and a one way track so once you leave a room, you can't go back. There are so many sets, costumes, photo opportunities, etc. It is cool to learn some of the secrets of how Harry Potter was made. Another portion I really appreciated was seeing the behind the scenes of the art department's sketches and paintings for set design. So much work goes into a movie and while the actors and actresses get famous for movies, the people behind the scenes, I feel, are even more important because they create and make that magic happen.
It was super easy to take the bus there. The only downside is you only have 3 hours. I could have used another hour at least as I kind of rushed the second portion. I also brought my own snacks so I didn't have to wait in any lines to buy food and that would have taken up more time. If you are able, I would suggest taking public transport or renting a car to go there, but you would need to book well ahead of time to purchase a ticket from their website. Otherwise, the bus is a great option and leaves right from Victoria Coach Station in the city.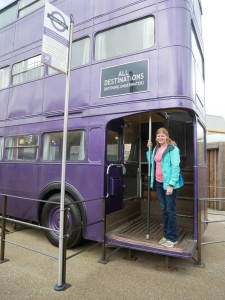 London Theater Show – I heard the London Theater was amazing, so I decided to check the TKTS booth to see what was on sale. I got a great deal on Kinky Boots, which I had been interested in seeing since I saw the movie. It was a great experience for my last night in London. Also my apartment was just 3 train stops away from the theater which made going home a breeze.
Tip: Get to the TKTS booth before 10am. I got there right at about 10 and the line took 30 minutes and wasn't even that long!
The British Museum – This is one HUGE museum, full of history of the world!! The great thing is museums are mostly free in London, just ask for a donation. You only have to pay for the special exhibit if you want to see that. I was kind of interested in the special exhibit since it was on the American Dream when I went, but after walking around the museum for a while, I was ready to go. My favorite room was the Enlightenment room. It contained so many old books about history and just was a beautiful room to go into.
The Science Museum – So after the British Museum, I decided to go to a museum that was more up my alley, the Science Museum. The Science Museum is located more in the museum district while the British Museum is on the other side of town. I loved how the Science Museum was easy to get to from the train underground. There are plenty of signs so you can't get lost! They had a Robots special exhibit that I paid for to enter, but otherwise, admission is "free" (donations appreciated). I spent 2-3 hours and covered most of the museum. I didn't read everything, but walked through and read things that caught my eye.
And there you have it, the things I did in London my four days. The time went by really fast and I look forward to going back someday. Luckily London isn't too far from the US. It was actually funny to run into so many Americans as we basically didn't encounter any in Australia or New Zealand (those places are a little farther from America).
Have you been to London?
Are you a Harry Potter Fan?