One place that I wanted to go in Australia when I returned (after studying abroad in 2011) was Uluru. Our visit was just under 24 hours at Uluru due to time and needing to return our campervan. However, during the short visit, I was able to learn some of the meaning of Uluru to the aboriginals of Australia. I know there are many stories about the rock and its history, but as our guide told us "you learn when you are ready to learn." Descendants of aboriginals work with the park and teach the guides the stories. They know when the person is ready to learn more and will invite them to join. I honestly felt like there was so much to take in at Uluru, but there was definitely not enough time. Uluru is a sacred rock to the aboriginals. In some ways, it reminded me about learning the stories of Hanuman in Yoga Training. While some I followed, others went completely over my head and again I think about how you need to be ready to learn something.
Back on the topic of Uluru, the aboriginals, specifically the Anangu people, lived in some of the caves of Uluru, surrounded by bushes that provided edible fruits and water holes around Uluru. Food, shelter and water. That's all they needed. Plus, when you live in a desert and you find all that, you take advantage.
Uluru is a popular tourist attraction for sure. But why? Uluru is a unique sandstone rock out in the middle of a desert area. Uluru is a place where you can learn more about the indigenous culture of Australia and experience part of the outback. However, another reason for its popularity with tourists is to climb the rock. There isn't really a staircase. It is quite a steep climb.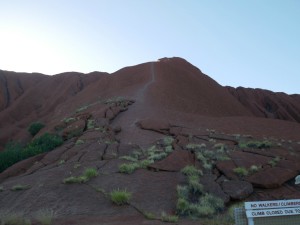 A climb that was taken by a leader of the aboriginals during ceremonies. For this reason and more, the Anangu prefer that we don't climb Uluru. When we arrived, the messages about "the climb" were a little confusing; "please don't climb Uluru," "the climb is not prohibited." It took me a minute to get that double negative. The aboriginals work with the park (part of the park fee is paid to them) and the agreement they have is to present the reason not to climb and let the people decide after reading it whether they still plan to climb. Apparently everyone used to try to climb, though it is quite dangerous and many have died, but now it is more like 20% of visitors. "The Climb" as I call it, is only open before 8am in the summer. Basically that means you have between 6-8am to climb, as the park opens between 5 and 6am. However, they do note the weather and winds and the climb was closed due to high winds the one morning we were there. It didn't matter that the climb was closed when I was there, because I had no intention of climbing Uluru to begin with. Also, after seeing where "the climb" was, before even reading the reason not to climb, I didn't want to attempt the steep climb. My reason for visiting Uluru, was purely just to see it. What I left with, was more knowledge about the area and its meaning to the indigenous people.
We viewed Uluru at sunset.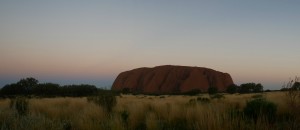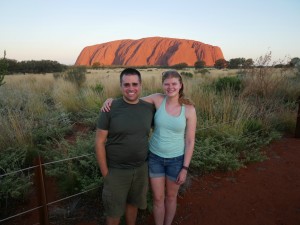 We took the free Mala walk around part of the rock in the morning before we left, to learn about the caves where the boys were taught and learn about the plants that grow in the desert area and more.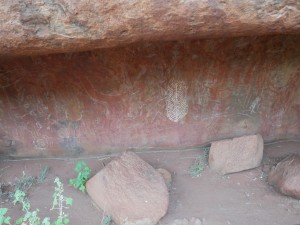 We may not have been able to fit in a lot, but it was just really amazing to see Uluru in person and just how big it is. Oh and apparently that is less than a third of the rock that we see, most of it is underground.
I also can't forget to point out the other "less famous" sandstone rocks in the park, Kata Tjuta dunes. We took a drive to them and stood around the base. The time of day we went was too hot to walk very far, but it was great to get a few photos.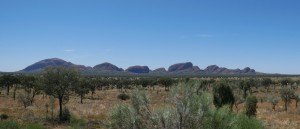 What do you think about "the climb?"