Oh hey there Monday! This weekend was nice and relaxing with some Fall related things too! Friday I got to work from home because of the expected Popenado in Philly. Though I think the city was pretty empty Friday because most companies had their employers work at home. I actually felt pretty productive and it was nice to stay in my workout clothes all day, have a longer gym session in the morning and also sign off and already be at home before 5pm. I took advantage of my extra time and headed to the pool after working, so yes double workout day! I have not had the chance to do lap swimming since July basically because of my ear infection and being sick and heading on vacation, I didn't want to risk it coming back. It was definitely nice to get some swimming in again. I decided to stop once I got to 70 laps (1 mile) and then headed to Target next door because my printer nearly ran out of paper printing stuff for work so I wanted to be sure I had more, just in case I was also working from home today. I also couldn't resist these cookies.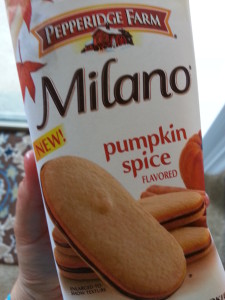 I tried them last year and really liked them. I think 1 bag is enough per year though.
As I drove home from the pool and Target, I kept thinking about making hummus and then I got an even better idea, Pumpkin Hummus! I had opened a can of pumpkin the other day to make pumpkin cookies so I needed to use it up. I had a couple people on Facebook ask for the recipe, so I thought I would share how I made it. It is really simple and just takes 30 seconds for the blender to whip up. I have a Blendtec blender and I used the Mini Twister cup to make this.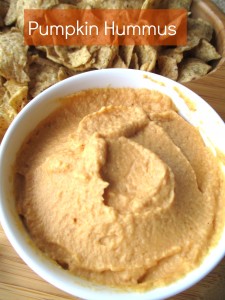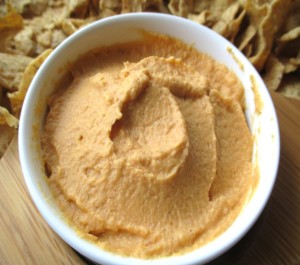 Pumpkin Hummus
2015-09-27 19:45:10
Ingredients
1/2 can chickpeas, drained and 2 tbsp liquid reserved
1/4 c canned pumpkin (not pumpkin pie filling)
2 tbsp olive oil
1/2 tsp pumpkin pie spice
1-2 tbsp water (optional, see notes)
Instructions
Put all the ingredients, except the water, into your blender or food processor*.
Blend for about 30 seconds
Scrape the sides down, if necessary, and blend for a few more seconds
If hummus looks too thick, you can add the 1-2 tbsp water to thin it out**.
Serve with chips or veggies
Store leftovers in airtight container in the fridge for up to 4 days.
Notes
*I have not tried this recipe in a food processor (as I don't have one)
**My hummus was pretty thick, so it helped to add water to thin it down. This may depend on the type of canned pumpkin you use.
Bridges Through Life https://www.bridgesthroughlife.com/
Saturday morning I left early to meet up with my friend for some apple picking. A 45 minute drive to the orchard was totally worth it. There was so much pretty scenery along the drive with all the farms. I knew it wasn't a far drive to farms around PA but really I need to get out that way more, so many trails to walk on. We went to Solebury Orchards and after parking, you wait to take a wagon over to the apple picking. This orchard was the first place I have been where we rode a wagon to pick apples. I have actually only been apple picking a handful of times in my life. I don't think apple picking is very popular in Illinois, so the first time I went was back in college in Buffalo, NY.
This orchard has so many different varieties of apples. We picked Pinata and Pixie Crunch apples. Both new varities to me and delicious! I also learned the proper way to pick apples, twist and turn upside down and it should come off if it is ripe, if not move on and try another. This was definitely true, but also tricky to try to figure out which ones were ripe. I did pick the perfect apple though since part of the tree came with it.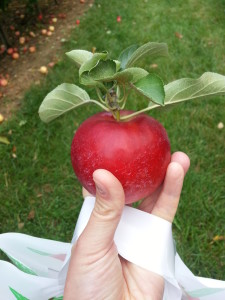 Really, how picture perfect is that apple?!
Once we felt like we had enough apples (I didn't want to go too overboard), I had my friend take a few bridge pictures for me, because apple orchards are just so beautiful!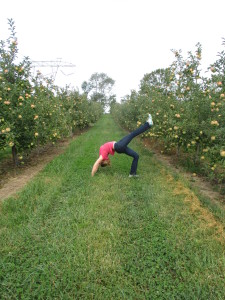 Then we hopped back on the wagon back to the market to pay. I also picked up some apple chips (which I haven't tried yet) and apple cider and an apple cider donut (which was eaten right away).
My long time favorite apple is the Golden Delicious apple which is usually ready to pick in October, so I might just have to head back to this place once those are ready to pick and restock my apple inventory.
The rest of Saturday I was in and out of my car, completing a list of errands before Sunday when barriers would be up for the Pope being down the street from me. I got my weekly groceries and got my earrings cleaned at the mall and then finally I was able to relax the rest of the afternoon.
I did assemble a massive burrito (though it failed to close until I ate some of it) for dinner.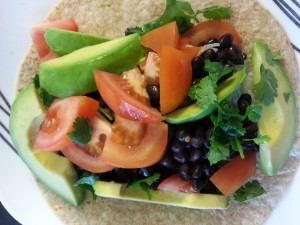 Sunday was a relaxing day. I made some shredded chicken in the crock pot for lunches or dinner for the week. Then I made myself do some much needed yoga for 50 minutes. Usually I can't stay focused doing yoga for that long in my own apartment, but I knew I needed it and it felt so good to make up the sequence as I went along. My muscles are increasing but now I am feeling out of yoga shape. At least I joined 3 Instagram challenges for October so working on getting back on my yoga game, in addition to the weight training that I am really enjoying.
After yoga, I decided to go walk around. I knew the Pope would be down the street, so I saw a few police around. He was 3 miles down the road though so I didn't see him unfortunately. I did check out the park by the train station that I have been meaning to get to since moving here in April. I didn't realize how big the park was. I looked up online after and the trail around is .75 miles so that is pretty decent. I walked about 3 miles total between walking to the park, around it and then back home.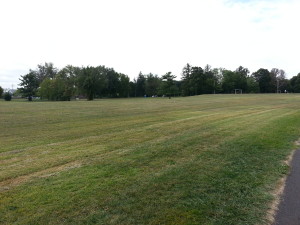 After that my legs were kinda dead, so I sat around. I have been catching up on the new season of "Chasing Life". It is definitely a sad season, having me shed tears with each episode, but always ends with wanting to know what happens next.
Not a very eventful weekend, but I always enjoy my down time as the week can get crazy and busy. The train is still on weekend schedule today because of the Pope but I might make it into the office still (as I write this I don't know if I am working from home or going in today). With less trains I feel the trains could go one of two ways, be way more crowded (which they already are crowded enough on regular days) or people may have been told to work at home so it could be pretty much dead, but the trains only come once an hour and I also don't want to be stuck waiting for an hour if the trains get too crowded coming home…decisions…I also like working in my yoga pants and sitting on the floor to work.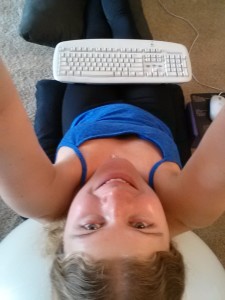 Yes I did get my work done this way. I actually felt it was better on my back sitting this way. I like that I can do all my work from home when necessary.
Hope everyone has a great Monday! Enjoy the Pumpkin Hummus recipe and let me know if you make it.
Do you have a flexible job that lets you work from home?
Have you done any Fall activities lately?
What's your favorite apple?