Wow what a weekend!! The last 4 days were incredible; filled with inspiring people and great workouts. I was excited to meet a couple bloggers in person that I follow, Megan and Beth. I also briefly got to meet Beth's beautiful daughter. She is seriously so cute. My friend Kasey was also there and she was so good at introducing me to so many of her friends. In fact at our little happy hour, she introduced me to the TRX squad and I learned there is a TRX for yoga. Somehow 40 minutes went by with them and I tried out some moves with them.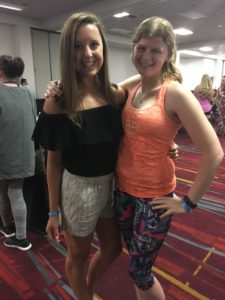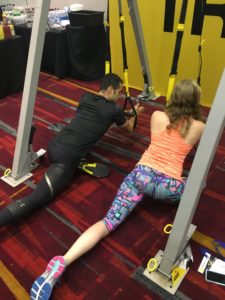 I love that everyone who had been to Blogfest before was so welcoming to the newbies. So many of us travel solo to the event, but you never really feel alone. In fact by mid day Friday, the jet lag or amount of events was really catching up with me and I was happy to have a bit of a break to hit up the pool for an hour. When it's 105 degrees outside, the water barely feels cold, but then when I would get out to read, sometimes there was the slightest breeze and it felt amazing. I loved getting a bit of sun and felt better after.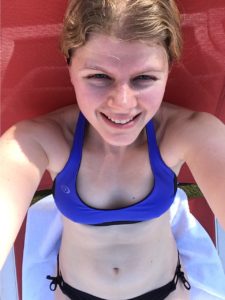 Saturday and Sunday allowed for a bit more relaxing time which was much needed for me to start working on some writing and processing. I didn't go out and explore Vegas. It just didn't fit my schedule and I opted for sleep at night since I was waking up at 5:30am each day (partly due to the time zone change and also because no Starbucks line at that time so I could get hot water and make oatmeal in my room). I'll be recapping my first experience at Blogfest and some takeaways on Wednesday, so keep an eye out for that post.
I'm writing this as I wait in the airport in Las Vegas for my first flight to Detroit. Then I fly Detroit to Binghamton. With the 3 hour time zone change, I don't land until 11:30pm, so it may be a bit rough today as I work at 8am. Hopefully I can take a bit of a nap on one of the flights and sleep well when I get home. I definitely can't wait to cook food again as I mostly lived on protein bars and a few items I bought at Whole Foods (thanks to my friend for taking me there). Note to others, living on high protein and fiber filled bars for multiple meals makes your stomach very unhappy. I probably lost weight on this trip, who knows. I arrived to the airport with plenty of time to spare so I got myself a turkey club sandwich at Chilli's. Somehow I wasn't even hungry for the fries, but the sandwich was delicious and my only meal besides oatmeal and fruit in the morning. I also had some chocolate I brought. Chocolate totally counts as its own food group right?!
This past week of workouts was pretty light. Even with IDEA world, I didn't do too many of the workout classes as I focused on anatomy for most of my classes. The rest days were very beneficial though since the week before I didn't take any rest days. I needed a little break to recover. Getting back to my workouts tomorrow. Today is work, laundry and grocery shopping day.
Sunday 7/16: gentle yoga
Monday 7/17: bench workout (morning), yin yoga (evening)
Tuesday 7/18: rest day
Wednesday 7/19: rest day
Thursday 7/20: got over 10K steps, but mostly rest day – sadly missed the Zumba session at Blogfest due to going to lunch with a friend
Friday 7/21: model sculpt workout at blogfest (similar to a barre/pilates mix), aerial in the expo, over 10K steps again
Saturday 7/22: POP Pilates with Cassey Ho – I was so excited when I saw this on the schedule for Blogfest/IDEA world and was so excited to stay and actually meet Cassey. She is seriously so sweet in person, just as you would imagine.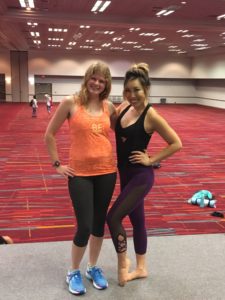 One thing I continue to notice when doing new or different workouts is how strong I feel since starting powerlifting about 10 weeks ago. Especially during the POP Pilates, I noticed the moves weren't too bad for me. I used to do some of the Blogilates videos on Youtube at home last year and it was always challenging to not take a break. I did take a break during some of the plank jacks, but besides that, I felt like my core has gained strength and the workout went well. One thing I will say I struggle with when it comes to pilates is doing so much core and keeping my low back on the ground. I usually get pain in my low back at some point and I know it's due to the curve in my back and how I lose the proper posture if I do the move too fast. I try to slow down if I have to or take a break. It's always important to listen to your body and be aware of your position.
Have you ever gone to a convention?